For tonsil spots, that is.
I have three kiddos today that are feeling a bit lousy, I think. O has a sore throat, H is grumpy and whiny, and B is just a little clingy and quiet. I hope they all don't have a bug. Maybe it's the weather. Poor bubs.
I thought it would be mean to take a picture of all three of them crying, so I tried to cuddle them all instead. None of them enjoyed that moment. :) I just have to give them individual cuddles. And some extra Elmo today.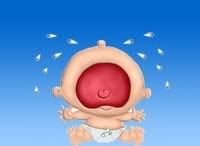 We did gather rocks, wash them, and paint them! Henry added a nice touch to his when he spit up on it. We'll have to paint them again because I wanted to make a rock garden outside but I realized I used washable paint. Rain, duh. Of course do I really want them using non-washable paint? What a dilemma. I don't see myself running outside at every rainfall and bringing in the rocks, that's for sure.